MARKETS
Semiconductor Test
It's become increasingly difficult to manage the heat encountered during IC tests. Absent the proper mitigations, it's easy to generate so much heat that chips can literally burn up. In addition, these thermal interfaces must be able to handle repeated use with minimal wear.
The Status Quo

vs. Carbice
STATUS QUO
More testing power
Faster testing speeds
Smaller dies
No sufficient TIM
Overheating
Chip stains w TIM
Chip mars w/o TIM
TIM generates debris
Chip fails with temp overshoot
Unreliable test & chip yield loss
No sufficient TIM
Bigger heat sinks
Temp overshoot
More chip yield loss
Higher costs
No sufficient TIM
Chip damage from test
Frequent change-outs
Longer heating and cooling
More emission & waste
No sufficient TIM
Narrows temp range
Lowers testing speed
Reduces chip yield
Requires pedestals
Limits testing system
CARBICE
Provides reliable heat dissipation over broad temperature range (-55 – 175°C) and pressure range (2.5 – 150 psi). Fast response minimizes temperature overshoot of small dies. Verified performance consistency over 1 million make/break testing cycles.
Carbice® Pads don't stain chips or create debris. Carbice Nanotube forest acts as a shock absorber to protect chips from marring. Carbice Pads maintain reliable thermal performance and structural integrity over 1 million make/break testing cycles.
Stable over the entire temperature range, allow repeated make/break. Resulting increase in chip production throughput and reduced chip yield loss from temperature overshoot lowers cost.
Built to last, from recycled Al and waste gas, reusable and recyclable. More insertion cycles with Carbice Contact Pad™ means less material waste and a more responsible & sustainable solution.
Enables the full temperature range of a tester allowing innovative system design. Shock absorption capability protects chip damage and eliminates the need for pedestals.
Case Study
Automated Semiconductor Testing
Contact Pad™ cools reliably for Semiconductor Testing
The challenge of heat management during semiconductor testing
Chips produce more heat and are less capable to dissipate heat in a tester:
Higher power applied during testing generates excessive heat
No conventional TIM survives repeated make/break chip insertion causing less heat dissipation
Slows down testing throughput and lowers chip yields

---
Meet Contact Pad
Contact Pad is the durable Carbice® Pad designed to provide reliable cooling where conventional TIMs experience extreme wear-and-tear:
Addresses challenging contact scenarios like make-n-break and sliding
Maintains reliable long-term thermal performance
Provides fast heat transfer to allow reliable temperature control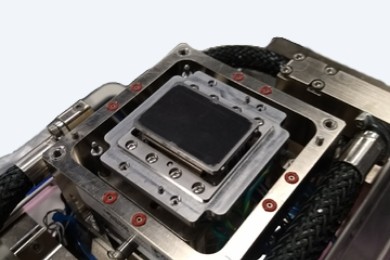 ---
Results
We tested the durability of Contact Pad during automated make-n-break cycles and found that Contact Pad:
Maintained low thermal resistance
Allowed reliable heat control during thermomechanical cycles
Consistent for over 1,000,000 make/break cycles
Does NOT produce debris/foreign material

Durability of Contact Pad during automated make-n-break testing cycles
Using Contact Pad, customers are able to:
Design new semiconductor testing systems
Launch new products faster, at lower cost
Advanced thermal interface materials are becoming a critical component to achieve performance and secure the supply chain.
Receive the latest updates and news from Carbice
Your email
Please use a valid email.