Contact PadTM
BUILD YOUR Contact PadTM NOW
The most durable TIM for semiconductor testing. Enables 1M+ make-n-break and sliding contacts.
BUILD YOUR Contact PadTM NOW
Contact PadTM vs. convention
PRODUCT
CP65
Silicone Pads
Graphite
Indium
THERMAL RESISTANCE
(ASTM D5470)
THERMAL
CONDUCTIVITY
HEAT
SPREADING
TEMPERATURE
CONTROL
LONG-TERM
RELIABILITY
COMPRESSION SET
(ASTM D395)
0.35 – 0.50 cm²K/W
12 W/mK
200 W/mK
Fast and predictable

Consistent performance. Performance may increase as Carbice Nanotubes settle and further lower resistance.

Negligible. Carbice Nanotube hair maintains rebound capability over time & cycling.

0.35 – 5.0 cm²K/W
5 – 50 W/mK
Negligible
Slower and less predictable due to high compression set with cycling.

Performance decreases. Pads can age and harden after thermo-mechanical cycling after <1000 cycles. Low temperature reliability concerns, low to moderate durability. Silicone oil leak over time.

Low to moderate compression set. Hard pads: 1 – 5%.
Soft pads compress more but can set up to 40%.

0.40 – 1.0 cm²K/W
5 – 10 W/mK
120 – 1800 W/mK
Fast, less predictable and susceptible to catastrophic failure.

Performance decreases. Cracking and shedding concerns after repeated wear-and-tear at <1000 cycles.

Low to moderate compression set: 3 – 15%.

0.15 – 0.30 cm²K/W
87 W/mK
87 W/mK
Fast, low predictability due to contact variability between cycles.

Moderate durability. Cannot be used for applications above 150°C. Stains the interface after just a few cycles.

Requires high pressure. Zero rebound.
Customizable specs to ensure your product performs. Build yours today.
Carbice product platforms are versatile, reliable, easy to install, and stable over time. Tell us about your project and see which Carbice product could solve your thermal needs.
Case Study
Automated Semiconductor Testing
Contact Pad™ cools reliably for Semiconductor Testing
The challenge of heat management during semiconductor testing
Chips produce more heat and are less capable to dissipate heat in a tester:
Higher power applied during testing generates excessive heat
No conventional TIM survives repeated make/break chip insertion causing less heat dissipation
Slows down testing throughput and lowers chip yields

---
Meet Contact Pad
Contact Pad is the durable Carbice® Pad designed to provide reliable cooling where conventional TIMs experience extreme wear-and-tear:
Addresses challenging contact scenarios like make-n-break and sliding
Maintains reliable long-term thermal performance
Provides fast heat transfer to allow reliable temperature control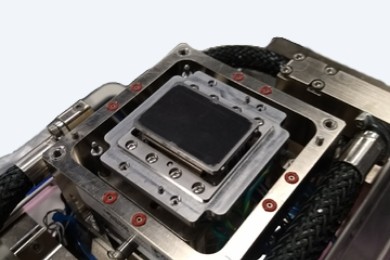 ---
Results
We tested the durability of Contact Pad during automated make-n-break cycles and found that Contact Pad:
Maintained low thermal resistance
Allowed reliable heat control during thermomechanical cycles
Consistent for over 1,000,000 make/break cycles
Does NOT produce debris/foreign material

Durability of Contact Pad during automated make-n-break testing cycles
Using Contact Pad, customers are able to:
Design new semiconductor testing systems
Launch new products faster, at lower cost
Case Study
Curved High-Power LEDs
Customized Contact Pad spreads heat for curved, high-power LEDs during testing
Poor heat management compromises the lifetime, performance, and cost reduction promises of light-emitting diodes (LEDs).
Customized Carbice Contact Pad solution can manage heat spreading for burn-in testing of high-power LEDs with a curved interface, where:
A large heat flux [2 W/mm²] is concentrated on a small hotspot
A curvature of 24 μm over a 6 mm area at the interface
Conventional TIMs fail to cool, making testing unsafe
Repeated make-n-break of contact is required during testing
---
Meet Contact Pad
Benefits of Contact Pad:
Extreme durability minimizing wear-and-tear
Allow repeated make-n-break contact or sliding contact
Maintain reliable thermal performance during testing
Providing fast heat transfer to prevent temperature overshoot
Can be customized to spread heat for curved interface to avoid hotspot

Illustration of high-power LED with concentrated hotspot and a curved interface.
Customized Contact Pad CP65 mounted on testing device for the curved LED.

We employed a customized Carbice Contact Pad solution with a graphite layer added in between CP65 for this application:
Thickness: 200 μm
Compression at 100 psi : 20 μm
1-sided adhesive
Pre-cut to specs
---
Results
Customized Contact Pad CP65 solution provided effective heat spreading for the curved, high-power LED during the burn-in testing process:
All LEDs can be simultaneously turned on and tested without overheating
With heat spreading function, device temperature was reduced by over 50 ℃

Using customized Contact Pad, this curved high-power LED device completed testing safely and was rolled out to full production.
Performance, stability and ease of manipulation are assets when using Carbice Pads.
Receive the latest updates and news from Carbice
Your email
Please use a valid email.