Ice PadTM
The no-compromise TIM delivering best-in-class performance for both small and large surface area cooling.
Ice PadTM vs. convention
PRODUCT
IP65
Grease
PCM
Gap pads
Graphite
THERMAL RESISTANCE
(ASTM D5470)
THERMAL
CONDUCTIVITY
HEAT
SPREADING
USE
ORIENTATION
BONDLINE
THICKNESS
RELIABILITY/
DEGRADATION
COMPRESSION SET
(ASTM D395)
0.08 – 0.14 cm²K/W
12 W/mK
200 W/mK
Any

Select from as thin as grease to as thick as gap pads

Consistent performance. Robust in the harshest environments. Performance may increase as aligned Carbice Nanotubes settle and further lower resistance.

Negligible. Carbice Nanotube hair maintains rebound capability over time & cycling.

0.08 – 0.15 cm²K/W
3 – 6 W/mK
Negligible
Horizontal only

Thin

Performance decreases. Grease dries and pumps out.

100% compression set. No rebound.

0.06 – 0.15 cm²K/W
5 – 8 W/mK
Negligible
Horizontal only

Thin to medium

Performance decreases. Develops air voids and/or pumps out.

100% compression set. No rebound.

0.35 – 5.0 cm²K/W
5 – 50 W/mK
Negligible
Any

Thick

Performance may decrease. Can de-wet under cycling due to compression set. Loses structural integrity under high pressure (eg bolts).

Low to moderate. Hard pads: 1 – 5%. Soft pads compress more but can set up to 40%.

0.20 – 0.50 cm²K/W
5 – 10 W/mK
120 – 1800 W/mK
Any

Medium

Consistent performance. Unless the stiff film tears/breaks under (eg different expansion rates)

Low to moderate. 3 – 15%.
Customizable specs to ensure your product performs. Build yours today.
Carbice product platforms are versatile, reliable, easy to install, and stable over time. Tell us about your project and see which Carbice product could solve your thermal needs.
Case Study
TIMs after 2000 cycles
Ice Pad™ provides better long-term cooling than other TIMs
Electronic devices experience an increasing number of heat management challenges:
Smaller and more powerful electronics lead to thermal expansion mismatch
Thermal expansion mismatch causes electronic malfunction and shortens lifespan
Conventional TIMs fail to dissipate heat over time due to dry-out, pump-out, and formation of air voids
Electronics de-rate, degrade, and are disposed as e-waste after a short time
---
High-Performance Grease C-SAM Analysis
Grease was applied only at the center of the interface (within the dotted circle).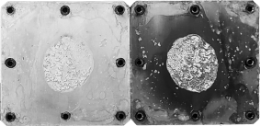 Takeaway:
After only ~50 cycles, the grease has completely dried out.

---
High-Performance PCM C-SAM Analysis
PCM was applied over the entire interface.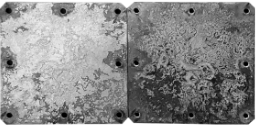 Takeaway:
Air voids migrate around interface with PCM.

---
Carbice Ice Pad C-SAM Analysis
Ice Pad IP150 was applied over the entire interface.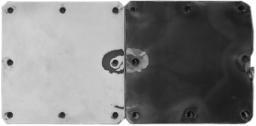 Takeaway:
Ice Pad cause no interface degradation throughout the 2000 test cycles.
Coupon thermal resistance change due to thermal cycling

Thermal cycling performed from -55 °C to 110 °C for 2000 cycles, according to modified JEDEC standard JESD22-A104F condition L. Thermal conductance measured using ASTM D5470 standard testing method.
Thermal interface quality degrades with increasing cycles for conventional TIMs:
After 2000 cycles the thermal resistance of grease is 2.6 times that of Ice Pad
After 2000 cycles the thermal resistance of PCM is 1.4 times that of Ice Pad

Using Ice Pad, customers are able to:
Remove heat effectively and reliably over time
Expect less de-rating of electronics over time
Build higher performance electronics that last longer
Generate less e-waste and be more sustainable
Ice Pad enables better cooling for GPU
The challenge of GPU heat management
GPUs are incorporated by data centers to handle increasingly intensive workloads:
They are affected by large thermal variances during operation
Heat buildup reduces GPU's performance, stability and lifespan
Reliability of data centers will be compromised

Meet Ice Pad
Ice Pad provides high thermal conductivity of a solid TIM and low thermal resistance of a liquid TIM, with reliable long-term performances and high volume manufacturability. For this study, we used IP90 with 2-sided assembly tack.
Carbice Ice Pad demonstrated immediate better cooling and long-term gains to GPU performance compared to POR Grease:
2℃ cooler upon initial installation
> 6℃ cooler after extended use
Over time, grease pumps-out and develops dry-cracks, causing its thermal resistance to double after extended use. On the contrary, Carbice Ice Pad wets the interface even better with time and cycling.

Takeaway:
Ice Pad provides better lifetime cooling performance than grease.
Using Carbice Ice Pad, customers are able to:
Lower GPU temperature
Boost GPU performance
Extend GPU lifespan
Increase data center reliability
Carbice is nothing short of revolutionary and will completely disrupt thermal management in every industry.
Receive the latest updates and news from Carbice
Your email
Please use a valid email.